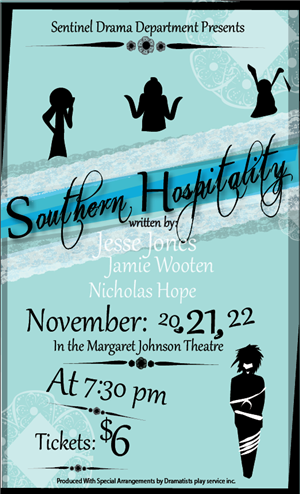 Sentinel's play, Southern Hospitality, is a hysterical mix of characters, from Reynard who just loves Fayro, to Dub Dubberly with his grade a American crisis the crazy marriage- obsessed Twink. Follow the Futrell sisters as they struggle to save their beloved little town from its dwindling population crisis. Geneva and Honey Rae (whether they like it or not) together manage to get the CEO of Seniora Caliente Salsa to consider moving their factory to their little ol' Fayro. After receiving the call (meant for Geneva) Honey Rae promises a whole slew of events in the upcoming Fayro Days Festival all the way from a war reenactment to a petting zoo... only problem is the tiny town has approximately four days to plan the whole thing! What with Justin and Gina Jo's gambling problems, and Franky's insanely rowdy young twins the family already is in a bind--then there's Dub's witch of a Great Aunt.... They've got their work cut out for them if they want to convince Seniora Caliente to move her factory to their... "normal" little town. Watch as these hysterical and lively characters travel through a wild couple of days while they fight to save their beloved hometown Fayro... and in many cases their sanity!
Tickets are $6 general admission and will be sold at the door. The play is showing November 20th, 21st and 22nd in the Margaret Johnson Theatre at 7:30 p.m.
We hope you can join us for this whirlwind adventure!