Smart Schools 2020 Bus Tours
Please join us for a bus tour to learn more about Missoula's neighborhood schools.
Click on the bus and sign-up for a tour today!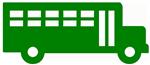 ---
Important News:
Due to a situation at a private home in the South Hills, 23
rd
Street was blocked off for several blocks between Highwood and 55
th
Street.
This did not impact student safety at Chief Charlo Elementary School.
All afternoon transportation will proceed as normal for walking and bus riding students.